MAP OF IROQUOIS COUNTY, ILLINOIS
I have attempted to outline the county line of Iroquois County on the map below. This appears as a dark line around the county boundary.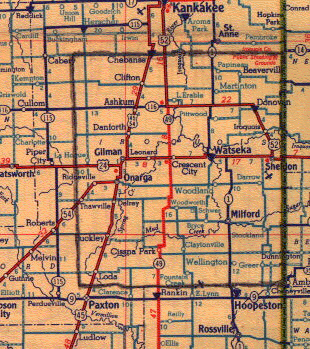 CHEBANSE
Chebanse straddles the Iroquois/Kankakee County Lines, according to this map, though I have often been told otherwise. If you do a Gopher search for Chebanse, you will be told that the town, indeed, is in both counties. If you have a query with a Chebanse address, please post the query in BOTH counties.
EFFNER (HAXBY)
Effner straddles the Illinois/Indiana state line and the Iroquois Co. Illinois/Newton Co. Indiana County Lines. It isn't on the map above, but it is on U.S. Hwy 24 at the state line, east of Sheldon. Please post queries for Effner (or Haxby) in both Iroquois Co. Illinois and Newton Co. Indiana.
RANKIN
If you have visited the Government Offices for Iroquois County page, you will notice that Rankin is not there! Indeed, Rankin is in Vermilion County. You may, however, have an ancestor who was born and lived in Iroquois County, but had a Rankin address. Because of Rankin's proximity to Iroquois County, and because even today a person may well have a Rankin address but live in Iroquois County, I will accept queries for Rankin addresses UNLESS the person clearly lived inside the town limits of Rankin.
HOOPESTON, CHENEYVILLE, E. LYNN
All of these towns bear the same relationship to Iroquois County as does Rankin; that is, they are in Vermilion County, but persons with those addresses may well live in Iroquois County. I will accept queries for these towns, subject to the same restrictions as above.

PLEASE POST QUERIES FOR
Rankin, Hoopeston, Cheneyville, and E. Lynn in both Iroquois and Vermilion Counties.
CABERY
Cabery officially straddles Ford and Kankakee Counties. However, there is a Cabery Fire District in Iroquois County; therefore I must assume that persons with a Cabery address might live in Iroquois County. Please post any queries for Cabery in all three counties unless you are sure of the county of residence.
CLARENCE in Ford County, bears the same relationship to Iroquois County as those towns in Vermilion County listed above. The same restrictions apply. Please post your query in both Ford and Iroquois Counties.
BORN IN IROQUOIS COUNTY, ILLINOIS does not mean "lived in Iroquois County, Illinois." I am acquainted with one person who has lived her entire life in Kentland, Indiana, until she went to school in Fort Wayne, and ultimately replaced me when I left my job. She was born in Watseka, Illinois (same place I was born; what are the odds, folks?). It was and still is the nearest hospital. Her birth record, of course, is filed in Iroquois County, Illinois. When searching for records on a family with births listed in Iroquois County - especially in Watseka Hospital - but you cannot find anything EXCEPT the birth record in that county or anywhere else in the State of Illinois, consider that the family may have lived in Indiana.
BORN IN FORD COUNTY, ILLINOIS - especially at the hospital in Paxton - may apply to persons living in Southern Iroquois County and Northern Vermilion County.
BORN IN KANKAKEE COUNTY, ILLINOIS - may well apply to persons living in Northern Iroquois County or Northern Ford County, as well as, again, persons in small towns in Western Indiana.
BUT WHAT SHOULD I CHECK FIRST? Well, that depends on what you already know.

Year of Birth is before 1940: Check the county of residence first. I have observed in transcribing my own family records that most births before 1940 took place at home. The hospitals were considered to be for the sick and dying.

You have census verification of county of residence. Do you know the village? If so, take a moment to guesstimate the nearest hospital. We are talking about only 3 hospitals until very recent times that served the area in my map; Kankakee, Watseka, and Paxton, each in a different county. Add to that another observation: Watseka was the favored hospital for births from about 1940 to about 1945. Then for some reason, Paxton became more commonly used for a period of a few years, after which the "nearest hospital" rule seems to go into play.

Hepatitis Epidemic 1956: This will have an effect on county of birth. You couldn't get admitted to Watseka Hospital unless you were dying!! That's only a slight exaggeration. My mother, two brothers and I all had hepatitis, (but were not considered to be sick enough to be hospitalized) and one cousin's wife died. Another uncle was so severely ill that he WAS admitted to Watseka. He recovered, however.

You HAVE the birth certificate. It says Iroquois County. But the family is no where on an Illinois Census. Check the census for the neighboring county in Indiana. The reverse is true as well: You have a census document that shows this person lived in Ambia, Indiana, but you can't find a birth certificate. Check birth records for Ford, Vermilion, and Iroquois Counties, in that order.
Return to Iroquois County GenWeb